What is Construction Management Software? Construction is a booming industry with a lot of money to be made. Unfortunately, the construction industry is also plagued by inefficiencies and inconsistencies. Construction managers are often left scrambling to keep up with paperwork, budgets, and other projects that need their attention.
Most companies are using outdated methods of managing projects which leave them with critical information gaps. Construction management software can help take care of this problem by helping you stay on top of everything from project documents to budgets and timelines.
Construction management software is a type of software that is used to manage the construction process from project inception to its completion to address the issues faced by the construction industry. It is used by many companies and organizations for project management, estimating, and scheduling which helps in managing the construction process from start to finish. It helps in managing all activities related to construction such as estimating, scheduling, cost control, quality control and safety control.
It should help construction managers' schedule and track task lists, assigned tasks and Project performance. It should also help contractors and construction companies assign tasks to employees, monitor deadlines, and track estimated and actual expenditures within budgets and schedules. Project management software can also help builders and contractors ensure proper monitoring and documentation of requests for information (RFIs), change orders and payment requisition. Construction management software connects everyone on project with one platform. To share and distribute information with team and clients, track time, generate reports, and more. Construction project management software is a set of tools that are used to help organize and manage the construction projects. It helps in the planning, scheduling, execution, monitoring of construction projects.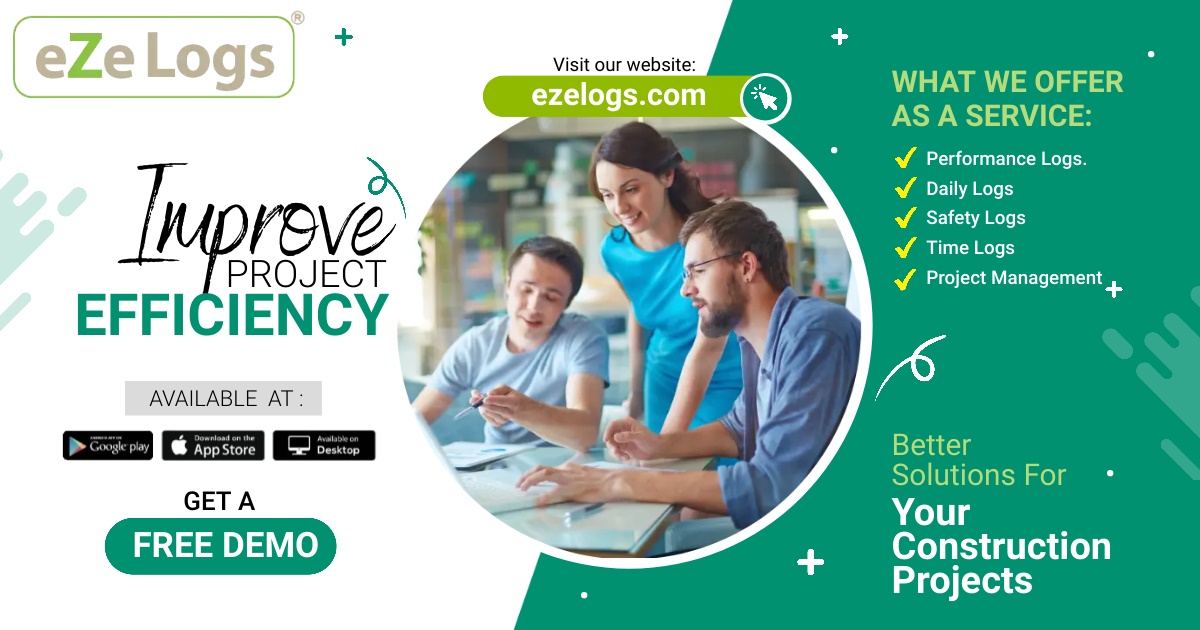 Purpose of Construction Management Software
Construction management software serves a number of purposes for construction companies. First and foremost, it helps keep up with all the paperwork that goes into a project. For example, it ensures that all the documents relevant to a project are easy to find and accessible. Plus, it will also help you stay on top of everything from budgets to timelines.
One of the most important things this software can do is ensure that the company is following industry regulations. If a company changes any part of the process without updating their documents, they can be cited with violations. This often happens when someone leaves a company and no one updates the construction management software with new information. Construction management software will keep track of these changes and make sure anything that needs updated is done in a timely manner so that no one falls behind on requirements.
Another important thing construction management software does is make sure your team members are always communicating effectively with each other; it's easy for people to forget or get distracted by what needs to be done if they don't have an effective system in place!
Construction project management software also makes sure that everyone on your team has access to what they need at all times, which cuts down on wasted time spent looking for documents or data from previous projects.
Construction management software is the backbone of any construction company. It is a vital tool that helps to manage projects, collaborate with stakeholders, and streamline workflows.
Construction management software is a powerful tool that can make the process of project management easier for construction companies. It can be used to manage projects, collaborate with stakeholders, and streamline workflows.
There are many different types of construction management software in the market today. Some offer more features than others and some may be more affordable than others. Understanding what type of features you need in your construction management software will help you find the perfect one for your company's needs. Many construction managers use this technology as a powerful tool for project bidding. It can make keeping track of bids much easier than trying to manage bids manually which only leads to more time spent doing busy work.
2. Does the Construction Management Software addresses the issues face by construction industry?
Construction industry is one of the most complicated industries in the world. It is so complicated that there are some companies that specialize only in this industry.
The following are some of major problems faced by construction industry
Lack of skilled manpower and retirement of aging boomers: The construction industry is in a dire need of skilled manpower to keep up with the demand for new homes and commercial buildings. Aging boomers are also retiring which means that there will be a shortage of skilled workers in the coming years. Construction companies are already feeling the pressure from the lack of skilled workers. In order to combat this, companies have taken measures such as hiring more apprentices, encouraging more women and minorities to enter into the field, and providing more training opportunities for current employees.
Poor Productivity: Poor productivity is one of the biggest problems that construction companies face. They have a lot of work to do and not enough time to complete it. This is why they need to find a way to increase their productivity and make the most out of their time. A study done by Harvard University found that construction companies can increase their productivity by up to 35% if they adopt certain strategies. The first thing they should do is to optimize their workflow and use tools that help them manage it. Secondly, they should focus on improving communication between employees, contractors and clients. Lastly, they should focus on the quality of work instead of quantity as this will lead them towards more profitable projects in the long-term.
Poor Project performance: A construction company is only as good as the projects it finishes and how well they performed. Poor performance can lead to a lack of trust with clients or even bankruptcy. The performance of a project is measured by many factors, such as: time to completion, cost overruns, customer satisfaction levels and many more. Poor performance leads to higher customer dissatisfaction, which could result in negative customer reviews and public relations problems.
Construction companies have been known for making the following mistakes that affect their project's performance: low employee morale that leads to low productivity, high rates of turnover, limited training opportunities and long hours.
Improper planning / scheduling: Some construction companies have been using the Construction management software for a couple of years now. It has been helpful for them in organizing their tasks and keeping track of ones that need to be done. The construction management software is also great for reporting because it analyses the project and tells you how much time you're going to take, what will get done, etc.
Rising cost of materials or new tariffs: Construction companies have to worry about the rising cost of materials, tariffs and the current market downturn. The market is shrinking which is affecting demand for construction services. Construction companies are facing a wide range of challenges in this new economic environment. The cost of materials has risen, global trade tensions have been exacerbated, and the housing market has become more competitive over the past decade. In addition, a lack of available labor is only adding to their troubles.
The construction industry is becoming a less profitable field in which to operate as construction firms are being forced to make all sorts of changes including adopting new technologies, upgrading equipment and implementing stricter safety measures just to stay afloat amid a tough economic environment.
Lead time & Supply chin disruptions: A lead time can be termed to be the latency between the commencement and completion of a construction project. The construction industry has been suffering from an acute shortage of skilled labor in recent years. The lack of available workers has resulted in a high-level of lead times and disruptions due to supply chains being disrupted. The Construction Industry's workforce problem is exacerbated by an aging workforce, with more than one-third aged 55 or older and only 16 percent under 25.
Staying within the budget / Cost overruns: Often, there are hidden costs out of the reach of small construction companies. These include unexpected problems, delays in approvals, and unanticipated equipment needs.
Delays: Construction companies taking on more projects than they can handle, leading to increased delays in deliveries. Construction Industry is one of the industries with the most delayed projects and failed to track and identify them properly to avoid claims.
Claims: The construction industry is one of the most dangerous industries to work in. It is also one of the most profitable industries with a high demand for skilled workers. Construction companies are always looking for new ways to minimize the risk of injury and death, while still maintaining profitability.
High insurance cost: Construction companies are often at risk of being underinsured. They are required to have liability insurance, but do not always have enough coverage for things like worker's compensation and property damage. One reason construction companies are underinsured is because they get their insurance from a broker who does not specialize in the construction industry. Brokers that focus on the construction industry can better help them find the appropriate coverage for their needs.
Poor documents management: Poor document management is a serious problem for construction companies. Poor document management can lead to high levels of turnover, low productivity, and increased costs. Construction companies can use tools like Google Drive or construction management software to keep their documents in one place and accessible to everyone who needs them.
Lack of communication: Construction companies are faced with a lot of issues in their daily operations.
Safety issues and meeting standard compliance: Construction companies are often required to meet specific safety standards. They also have to comply with government regulations. It is important that construction companies make sure they are meeting these standards and complying with these regulations.
Quality issues: Construction companies are increasingly investing in construction management software for their projects. They also use it to generate a virtual reality model of the construction that can be used for marketing purposes. Construction management software is also being used by construction companies to predict where there might be issues with the building.
Unreliable subcontractors: Construction companies are not the only ones with subcontractors. There is a vast range of industries that use them to get things done, but it is important to make sure that they are reliable and trustworthy.
The first thing to do is to have a clear contract with the subcontractor. This contract should list out what needs to be done and what will happen if the subcontractor fails to meet their obligations. It is also important for the subcontractor's obligations to be outlined in detail so that there are no hidden clauses or surprises at the end of the project.
Green construction techniques: Construction companies are always looking for new ways to reduce the environmental impact of their buildings. This is why green construction techniques have become a trend in the industry. Green construction techniques are not only environmentally friendly, they also provide a better experience for building occupants by reducing noise and improving indoor air quality. The green construction techniques can be divided into three categories: renewable energy, sustainable materials and water conservation. The most popular technique is the use of solar panels on rooftops to generate electricity and the industry will get LEED credits.
Cash flow issues: Construction projects are usually funded by banks or through credit lines. However, when construction companies can't get more funding sources, they may have to stop work on the project to avoid going into bankruptcy. In that case, it is important for them to be able to find the right construction financing and get back on track. Some of the reasons why construction companies may not be able to get funding are:
Poor cash flow management
Risky business practices
Lack of collateral
High levels of debt
Unfavorable contract terms: Unfavorable contract terms are terms which are not in favor of the contractor. Construction companies often use unfavorable contract terms when they want to take advantage of the situation and make more profit at the expense of the contractor. A company may limit the number of hours a day that a contractor can work on site. This will mean that they will have to pay for overtime, even if there is no work available for them to do, or may not provide tools and equipment which are necessary for carrying out their job.
Unpaid work: Construction companies are not paying their employees in many cases. This is because they are not being paid on time by the government. Construction companies have to pay their employees every month, but they are not getting paid on time by the government. This causes them to be unable to pay their workers in a timely manner.
Technology adoption: Construction companies are adopting new technologies at a rapid pace an example is the construction management software. They are investing in new technologies to help them stay competitive in the market. In a survey conducted by Construction News, it was found that construction firms were investing heavily in new technologies.
Change in regulations: Construction companies are required to comply with the latest regulations and standards. Construction companies are required to comply with the latest regulations and standards.
Varied technology: Construction companies are using technology in many different ways. Construction companies are using technology in many different ways. The construction industry is one of the industries that is most affected by the introduction of new technologies. The introduction of new technologies has brought about a lot of changes to this industry, and construction companies have been able to benefit from these changes immensely.
How Does Construction Management Software Help Owners & Contractors?
Construction management software provides benefits for both the owner and contractor. For the contractor, it can help them to better manage their time onsite, streamline data collection for billing purposes, reduce paperwork (saving time), and provide a less stressful work environment.
For the owner, it can help them to have better control over their budget due to increased transparency in costs (saving money), reduce risk of errors on blueprints or specifications (saving time), and provide a less stressful work environment.
Get a bird's eye view of your work
Construction subcontractor management software provides you with a bird's eye view of your work. This means that you can stay on top of all of your projects from a distance.
You don't have to be on the ground level to see everything that's going on. All you need is internet access and you'll be able to see everything that's happening in your company, whether it's taking place in USA or China.
If you're not using construction management software, then you're never really sure if the project will go according to plan without constant supervision.
Construction managers need to be proactive rather than reactive which can often mean they have to check up on things before they get too far off track or else it becomes impossible.
With construction management software, an alert will pop up if something needs your attention so that you never miss an important step in the process for any given project.
This gives construction managers more time for other tasks and allows them to focus on maximizing their efforts for company growth and success.
Tips You Need to Make Your Construction Management Software Work for You
You can't afford to have a construction project go wrong. You need to plan it out and make sure you're taking the necessary precautions to keep everything running smoothly, which is why it's important to use construction project management from the start.
Whether you're a general contractor or sub-contractor, construction management software can help you manage your time and resources more efficiently. Follow these tips for using construction management software for success!
When to Start Using Construction Management Software
Construction projects are all about details. You can't afford to forget something, or you'll be in for a lot of expensive problems later. You need to make sure you're planning and documenting everything from the start to avoid any last-minute surprises. This is where construction management software comes in handy!
The best time to start using construction management software is at the beginning of a project, when you're still in the planning stages. Construction management software will help you create detailed blueprints of your project and keep track of every detail so that you don't miss anything important.
When it comes to managing your resources, construction management software is a must. Construction management software tracks all of the materials, people, and other resources involved in your project so that you know what needs to be done next.
You'll also be able to analyze your project's budget better with this kind of detailed tracking – and this will help keep you on budget as well!
You don't want unexpected delays to take place during a crucial stage of your project. If something does go wrong, construction management software will alert you early on so that you can take care of things before they spiral out of control. It makes it easier for you stay ahead of potential obstacles that might crop up along the way.
You have lots on your plate during a construction project – which is why it's so important to use construction project management software from the very beginning! The earlier you get started, the more likely it is that your construction go well.

Reasons to Use Construction Management Software
Construction management software is a great tool for managing projects and keeping up with all your team's activities.
It also helps you avoid inefficiencies by giving you better and more transparent information about your project budget. The following are some reasons why construction management software is important for your business:
Increased Efficiency
Construction management software helps you stay on top of things like deadlines, budgets, and other documents. This way, you can avoid missing important details or deadlines which could cause your project to suffer. With this platform, you can easily manage everything from timelines to employee workloads.
Better Project Management
This type of platform helps keep everyone on your team updated on the progress of your project. With construction management software, no one gets left out of the loop which leads to more efficient project management.
subcontractor can be kept up to date about deadlines and other important details that will help them finish their tasks sooner than expected.
Transparency of Information
Construction software gives you an overview of budgets and timelines as well as critical information about how much money has been spent so far on a particular task or company expense.
This type of transparency enables managers to make informed decisions quickly which reduces wasted time in trying to figure out what's happening with each task in the company.
Improved Safety
Construction sites are notorious for being unsafe places to work due to all the heavy machinery and equipment used there every day. Construction management software can help reduce this risk.
Save time and energy
Construction managers use construction software and subcontractor management software to keep track of the important details that can sometimes be lost in a mess of paperwork. By using this type of software, you'll spend less time getting caught up on paperwork and more time focusing on the project.
How to Choose the Right Software for You
Choosing the right software for you can depend on your business operations. You want to make sure you have the right construction project management software for what you need.
Not all construction management software are created equal. Some are better than others and some are more expensive than others, so it's important to do your research before choosing a certain type of software.
One way to determine which construction management software is best for you is by looking at the different features they offer. Different construction management software will offer different features and may be better suited for certain needs than others.
For example, if you're running a large-scale project, then an enterprise-level of construction management software might be best because it offers more features suited for larger projects.
However, if your company is smaller in size or is only running a few projects at once, then an enterprise-level of software may not be necessary and would simply be too costly and time-consuming to use.
Tips for Successful Use of Construction Management Software
Know Your Goals
What are your goals for using construction management software? Do you want to know how much time each of your subcontractors is spending on the project? Or would you like to track how long it takes for various tasks to be completed?
If a subcontractor is getting behind, have them use their own construction management software so that you can see what they're doing. Knowing your goal will help you decide which features are necessary for your business and which aren't.
Set Up a Workflow
Figure out an order of operations for your workflow and make sure all parties are on board with the process. You'll need to establish who's responsible for what, which also entails setting up systems in order to make things easier.
Have a Backup Plan
No matter how carefully planned a project may be, there are always going to be obstacles that get in the way. When accidents happen or unforeseen events occur, it's important to have backup plans in place so that the progress doesn't slow down when the unexpected happens.
You don't want anything slowing down your progress! That's why it's important to have redundancy set up at every step of the project and contingency plans if anything does go wrong.
Having these backups in place will ensure that you're prepared for any situation and can carry on with the work without much interruption.
Utilize the Tools Available
Construction management software and subcontractor management software like Ezelogs, should be utilized for the best use.
Benefits of Using This System for Your Company
Using this system will help your company to save time and money. The benefits of using this system for your company are: saving time, saving money and gaining a competitive edge.
Features needed in Construction Management Software
Key features of construction management software are;
Project scheduling: Scheduling features allow managers to assign projects to employees, resources and equipment. This is especially important for companies that have ongoing deadlines or multiple contractors to manage.
Project tracking: Management software allows companies to track commotion lists, time and progress throughout the life of a project with cost codes. You can also send alerts when a project is approaching a budget or time limit.
Document management: All project documents – including plans, contracts, and photos – are archived in a central, easily accessible repository. This helps teams stay organized and facilitates collaboration. Document management has the added benefit of allowing both your team and clients to access the virtual paper trail whenever they need it.
Job costing and project funding: With project management software, team members can compare initial estimates to actual project costs, create, and submit requisitions. Many programs also integrate with accounting software so you can manage all payments, invoices and timesheets in one place.
Apps: Construction software comes with apps in iOS & Android for easy coordination with field and office.
Solution by a Popular Software
There are many construction project management software in the market but they address few of the issues, not all. One of the software that addresses many of the above issues which is EzeLogs started the Web and mobile applications with multiple packages-application that can improve their project efficiency in the construction industry and it is free for three months.
Ezelogs Solutions and Packages
Those packages which are already developed includes:
daily logs
safety logs
performance logs
project management
Labor Issues
Employment / HR issues
Gantt Chart with Scheduler (Resources planning)
This application aims to enable the clients have access to their database anywhere through their mobile phones / Web access (particularly in the field, at the construction sites), and the client can switch to any package with convenience and the easiest ways.
Web portal and Mobile app development present a unique chance for a one-person development team to build an actual, usable, significant app end-to-end during a comparatively short period.
However, Web and mobile apps development represent more than just a chance for the solo-developer to create their project. It is arguably the longer term of product, as mobile devices are getting larger and more significant parts of our lives. There are several constructions related web and mobile application apps in the market, but our concept is to bring all necessary technology needed to the construction industry into one platform with all latest technologies so that user can operate and integrate all data in one location without compromising features required to improve project efficiency. This will be a unique web portal application and easy to market.
Conclusion
Construction management software is one of the most important tools for construction professionals. This software will help you keep track of what's going on in the project, who is doing what, and how things are progressing. This way, you won't be caught off-guard when it comes to meeting deadlines. The software has come a long way and is now being used to manage construction projects. This is an exciting development and will lead to the future of construction being more efficient, safe, and environmentally-friendly.
Read More Lack of communication affects company in 3 ways

Read more Ezelogs
Blogs:
About Ezelogs Blogs & Disclaimer: Based on experience we are trying to help contractors by providing information and we request all readers not just depend on our content always verify with multiple sources before you make a decision and some of the external links are part of ezelogs promotion and visit ezelogs disclaimer.